Performing Live
Here's a little taster of us performing live. Snippets from our gigs at Hailsham Pavilion and the telescope dome at Herstmonceux Science centre. 
Turnaround
Our latest music video released Friday 5th Feb 2021.
Filmed and produced by Alex Thomas. Track by Milton Hide, soon to be released on the album Temperature's Rising.
Launched 5th March 2021!
Temperature's Rising, our debut FULL ALBUM launched on
Friday 5th March 2021
We are really excited to be able to finally bring you this album, delayed in 2020, which was largely funded by our wonderful Crowdfunder supporters.
Here's a video of our live online launch celebration Youtube
Buy your copy of the CD now. £12 plus postage.
You can download the album from Bandcamp from Friday 5th March.
The first of our reviews for Temperature's Rising ...
The album's final track, 'Took To Wing (Nightingale)', sees the album end on a high. The rousing chorus and overall feel/sound of the song recalls Fairport Convention at their best. A wonderful way to finish the album on.
I have enjoyed Milton Hide's live streaming earlier on in lockdown, as they both love their music and performing it, something that shows upon listening to this delightful and enjoyable debut album. Add in the excellent sound/production work of John Fowler and you have one of this year's 'must have' folk albums. ****
This is a godsend! I love their sound, the writing is poignant and refreshing, and there's so much to dive into on this album!
Their music has a strong country/folk base but they have shaken things up with help from a bunch of fine musicians. You can hear their influences all through these self-penned tracks. There's a touch of Fleetwood Mac in the title 'Temperature's Rising' and 'Making Progress' makes good use of Josie's fine voice in a song that reeks of vintage Steeleye and with humour and social comment that is gloriously relevant….
READ MORE
Milton Hide - folk with a twist
Milton Hide are husband and wife, Jim and Josie Tipler, from Wilmington in East Sussex, UK. They perform their own songs and compositions on guitar, cajon, clarinet and the very occasional banjo and xylophone thrown in for good measure.
Subjects include polite, political rants, egg banjos, murder, whale riding, weddings, death and mid life crisis.
Encompassing contemporary folk, a touch of blues and cajun, some pop and a smattering of klezmer, their unique music is influenced by the local landscape, landmarks, characters and family.
If you would like to contribute something to the Milton Hide tip jar, please feel free!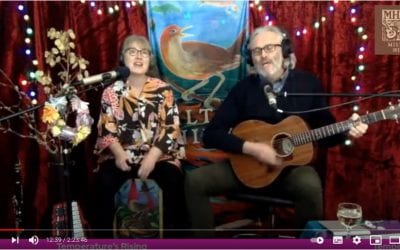 Milton Hide's First Album - Live launch!Despite lockdown we had a brilliant time for the launch of our debut album. Joined by almost everyone who featured on, helped with and made possible the album, we spent a lovely couple of hours online. Watch again to see...